The Children's Director at our church asked my mom and me to teach a 2 week class for the children that are attending our Wednesday Night Live Classes.

We are very honored that we were asked to teach these sweet kids.

We were given the topic, "I Am Made…" to guide us in our project creation.

The Children's Director stated that they will be focusing on the gifts that God gives all of us and how we are using them to benefit and glorify God.

She also provided the bible verses that they will be using during the next 6 weeks.

The main focus verse is, "Before I formed you I knew you, before you were born I set you apart, I appointed you as a prophet to the nations.

Jeremiah 1:5"
My mom and I thought it would be fun to make a paper sack album with the kids and have them bring photos of them using their gifts (helping others, working on a mission project, etc.) and to include the verses that they are focusing on.

So, here you will find the photos of the completed album.

I used CTMH's Miracle Kit which was recently retired but I thought it turned out very cute.

I hope you enjoy it!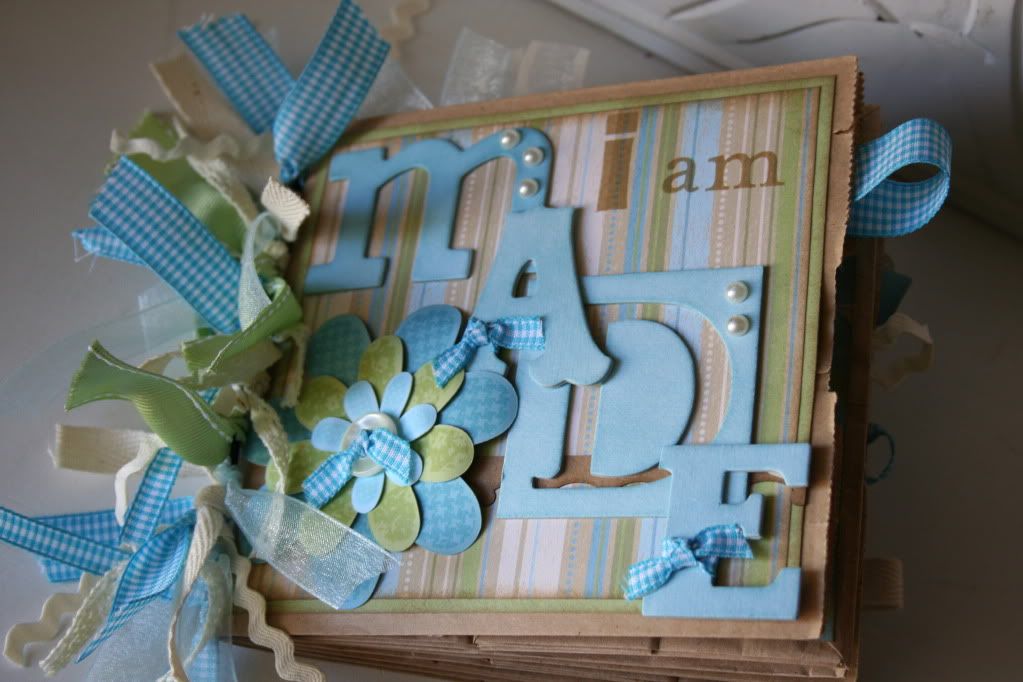 This is the Cover Page - "I am" was stamped with our new E-size Alphabet Set "Trinity". The chipboard letters are CTMH Dimensional Elements Monograms and I sponged them with Crystal Blue Ink. You will see throughout the paper sack album that I used our "Hooray Bouquet" stamp set in conjunction with our new Cricut Art Philosophy Cartridge which cuts the flowers to the perfect size.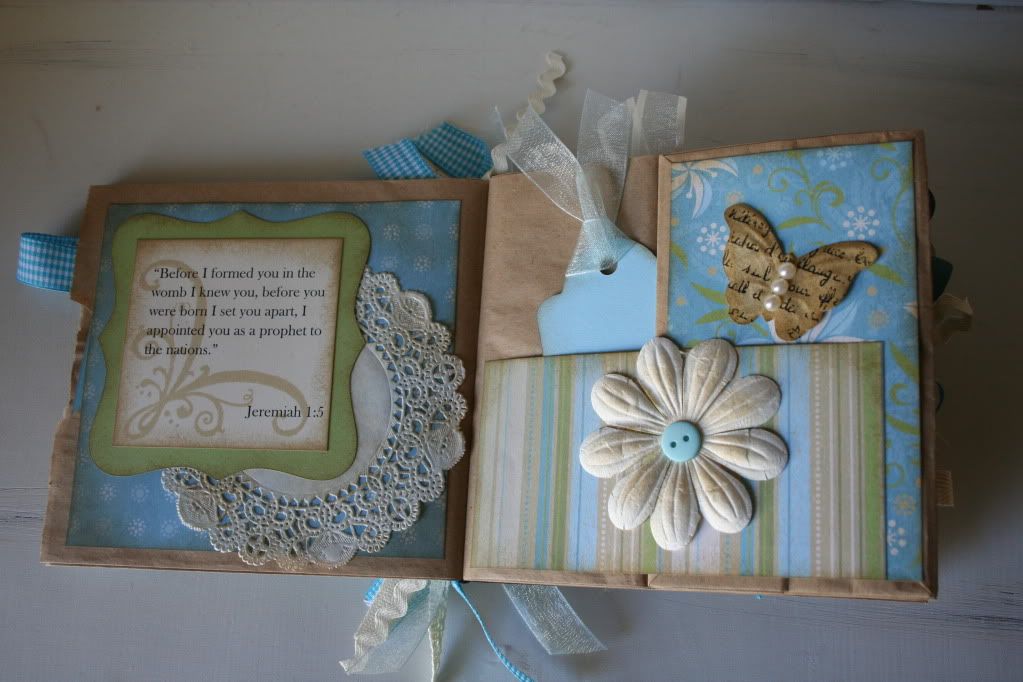 We used Wilton Doilies in the album and they were sponged Desert Sand Ink. I also sponged Desert Sand ink on the edges every piece of paper. I used CTMH Just Blooms Paper Shapes (butterflies) and Just Blooms Just Pinks (daisies) throughout the book and sponged them with Desert Sand as well.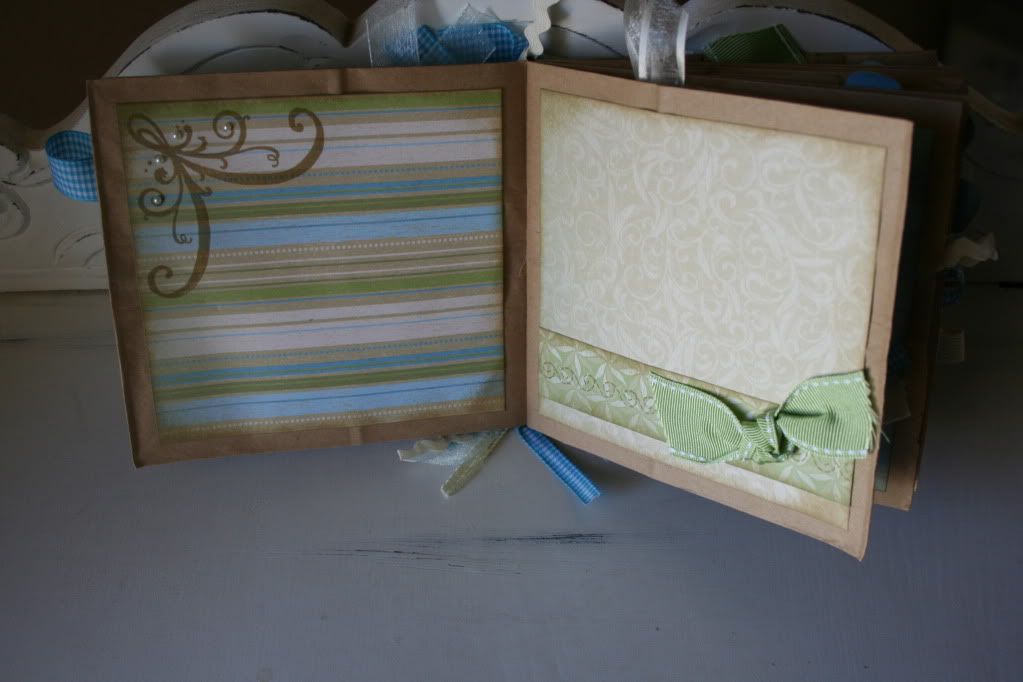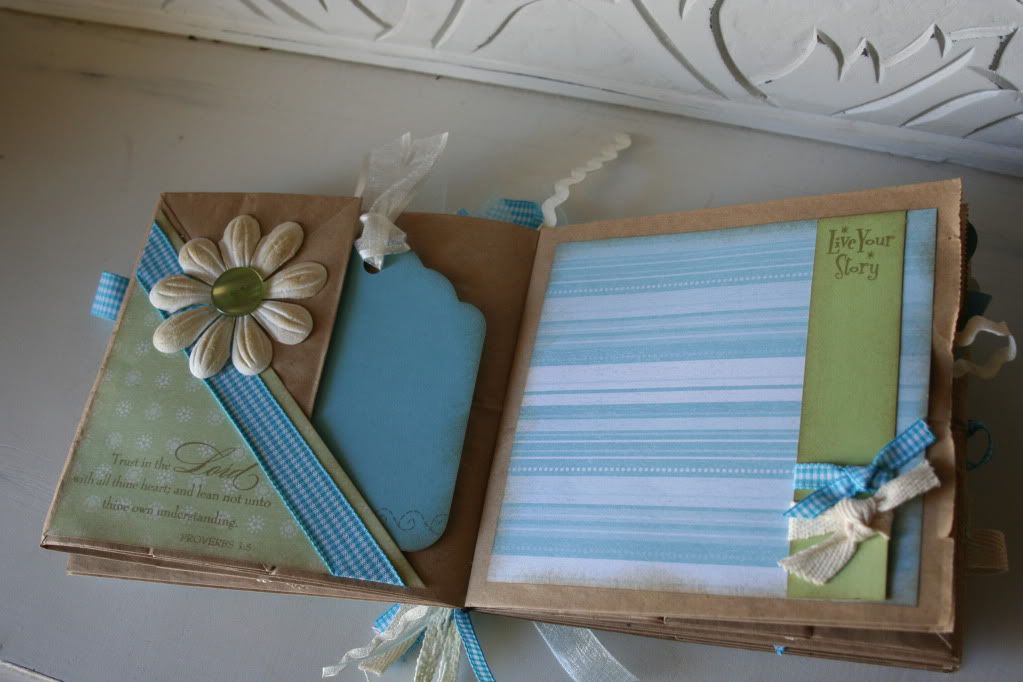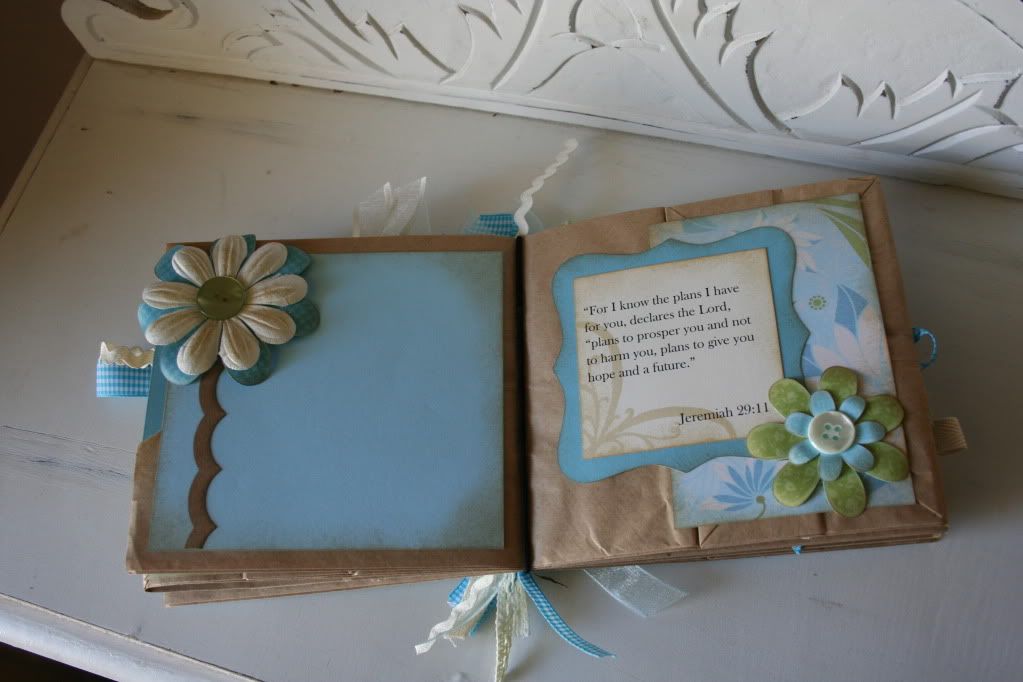 This page features CTMH Kraft Color Ready Borders as the stem for the flower.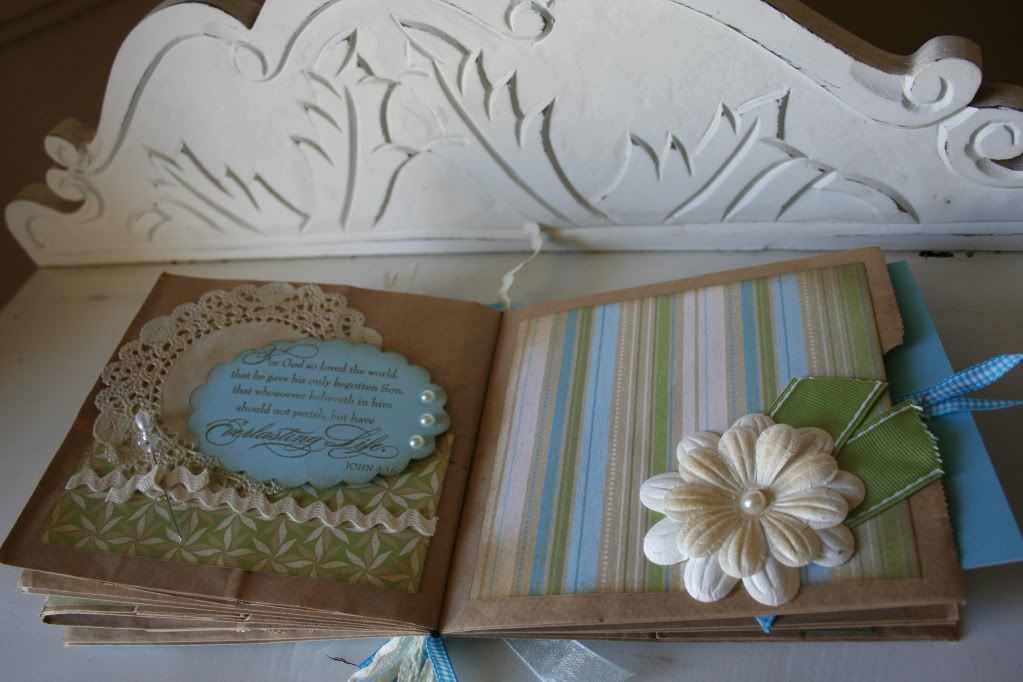 The paper sack album is made from 4 sacks which were folded in half and held together with a ponytail holder. There are miscellaneous ribbons tied on the ponytail holder on the outside cover so that you don't even see it. There are pull out tags in the paper sack openings to include additional photos.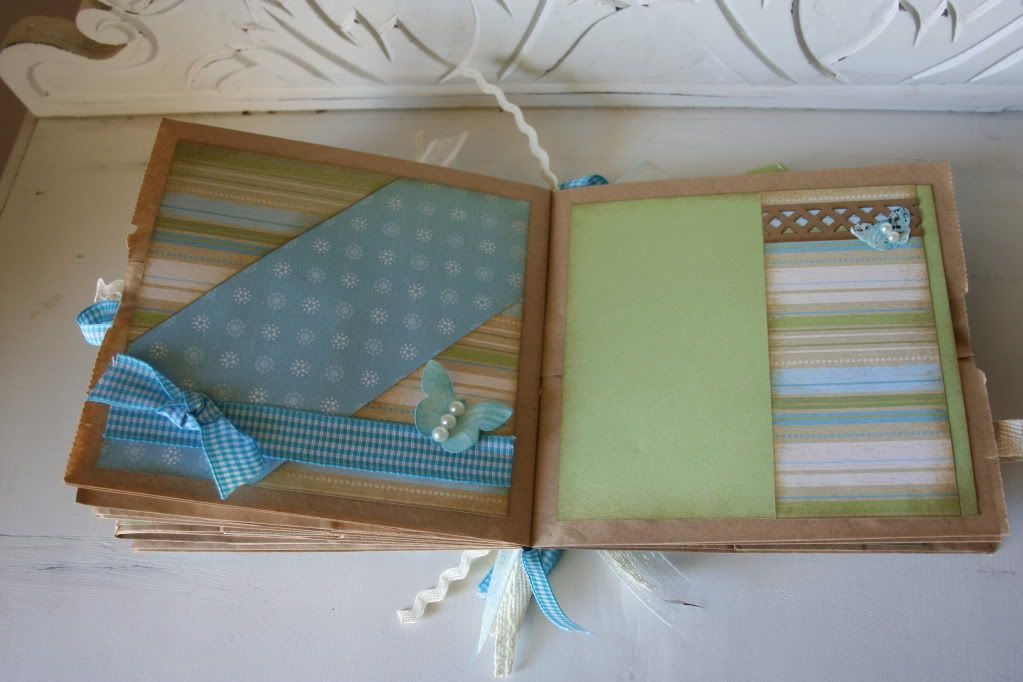 I love CTMH Pearl Opaques and used them throughout to embellish the butterflies, flowers and Dimensional Elements.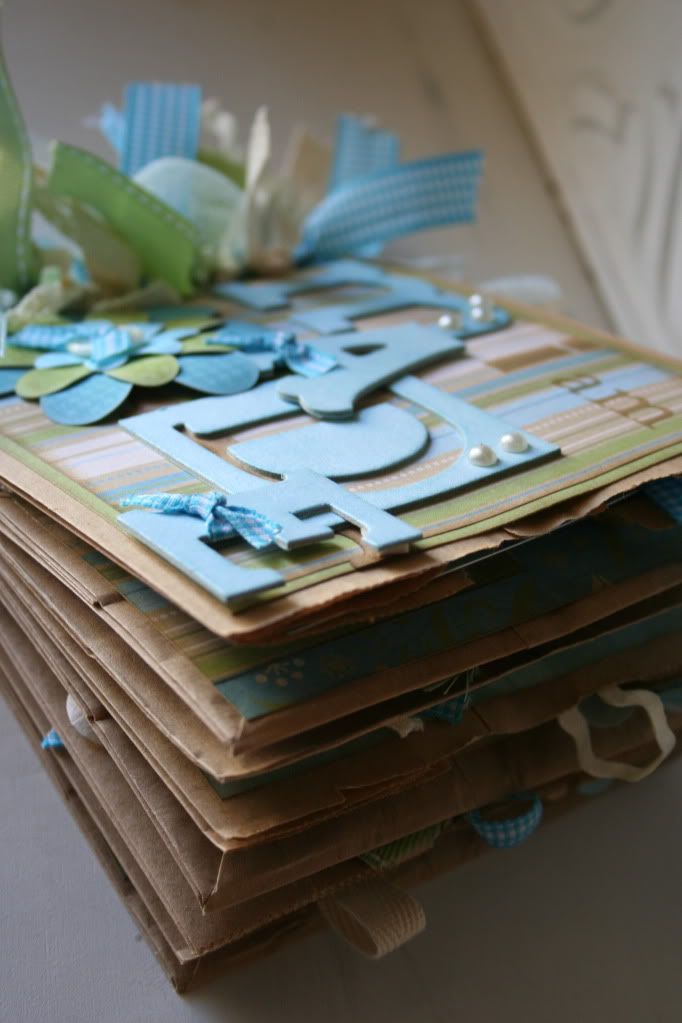 And, that is all of it it. I hope you enjoyed it!
PS - We thought that the K-5th graders were attending our class and it ended up that they were 3-6 years old. All I can say is that God has a sense of humor (and sometimes our sense of humor isn't as good! But we always learn from these experiences!)