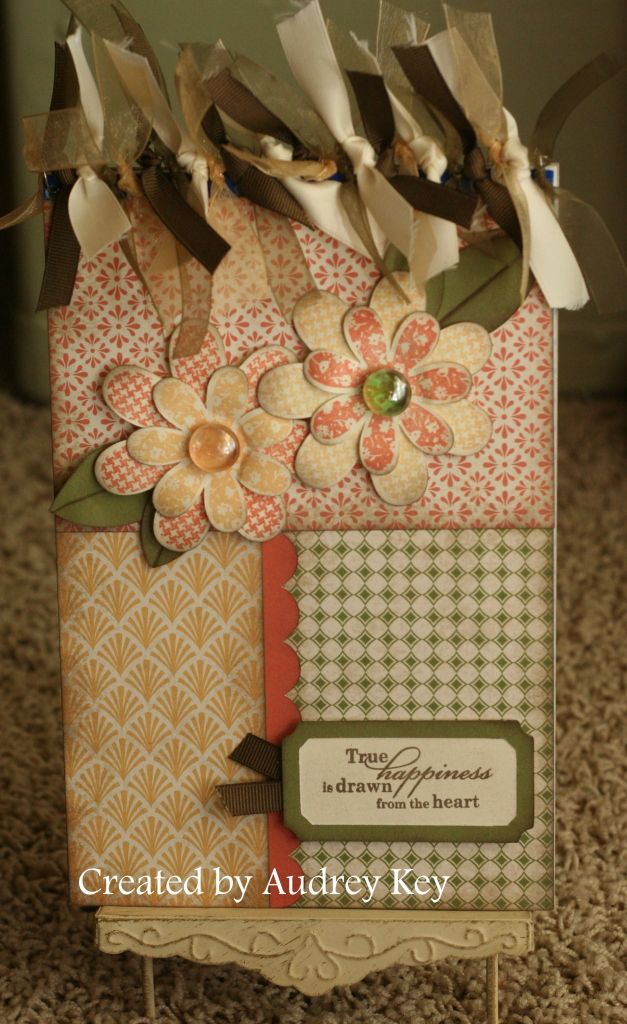 This past weekend, the Women of Westminster had a Women's Retreat called "God Moments". Since my mom just had surgery, she nor I were able to attend...I know very sad!
However, many, many months ago the committee asked me if I would teach a group craft project (for 55), as last year we made thank you cards with the ladies. I was thrilled they asked me again, and after thinking about it for a week or so, I suggested that we make prayer journals to one of the committee members. She didn't relay that to the committee chair that week, but the next week they met with the retreat speaker and she told them that she really emphasizes journaling. Well, I don't know about you, but I took that as a sign that God meant for us to make those journals to record their "God Moment" in.
The above journal is what we made. I used the Elemental Paper packet and miscellaneous ribbons from my stash. I cut the scalloped border, leaves and flowers on the Cricut and stamped them with the Hooray Bouquet stamp set. We used liquid glass to adhere the pebbles to the center of the flowers.
Everyone loved their creations...many of them don't scrapbook or make cards and told me that it made them feel really "crafty"! Those are the days that I love my job!
PS - Thank you to my last minute helpers! My mom, Aaron Brown, Aunt Barbara, Nancy, and Jackie helped me, as the committee split everyone up into groups - and there aren't 6 of me (thank goodness)!