When I was a new consultant (over 10 1/2 years ago), I attended a "Regional Celebration" in Dallas that the CTMH corporate staff planned. Many top consultants spoke at that event, as they do at all of our events. At the time, it seemed foreign to me that the consultants would say...."The CTMH family is the best thing about being a consultant." At that time, I did not have any downline yet and I hadn't been a consultant a year. I remember thinking that
I might never feel that way.
Many things began to happen in my CTMH life. I did begin recruiting downline; I attended
convention in Dallas (and now I will never miss that event! - unless a grand baby decides to come the same week!); I amped up the amount I was working/teaching classes/holding home gatherings and I met so many wonderful customers and made life long friends; I served on the CTMH Advisory Board; I began earning CTMH incentive trips (and have gone on some fabulous vacations!); the list goes on and on! Many of you, Corporate staff included, have seen me through many
challenging times and now I can say.....
"The BEST thing about being a Close To My Heart Consultant
is the "FAMILY" that it creates." My life wouldn't
be complete without all of you!
On Sunday, our All Keyed Up Consultants celebrated Christmas with a casual get together at Vicki Witt's home (which is beautiful by the way!). We each brought a Christmas treat along with the recipe. We exchanged ornaments; which were each beautiful and unique. Here is the picture of the lovely consultants that were able to attend.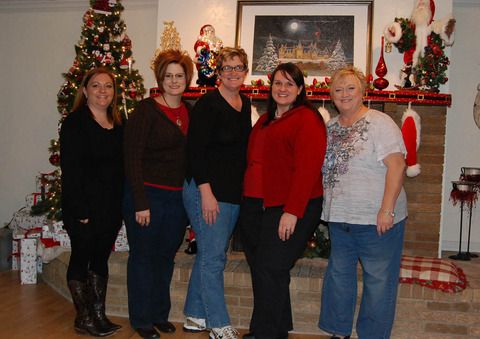 Left to Right: Aaron Brown, myself, Tiffany Owens,
Jeana Culbert, and Vicki Witt
To those of you who weren't there, we missed you! To those who were, it was great catching up and meeting some new faces! I pray that you all have a very Merry Christmas and that you are richly blessed in the New Year!