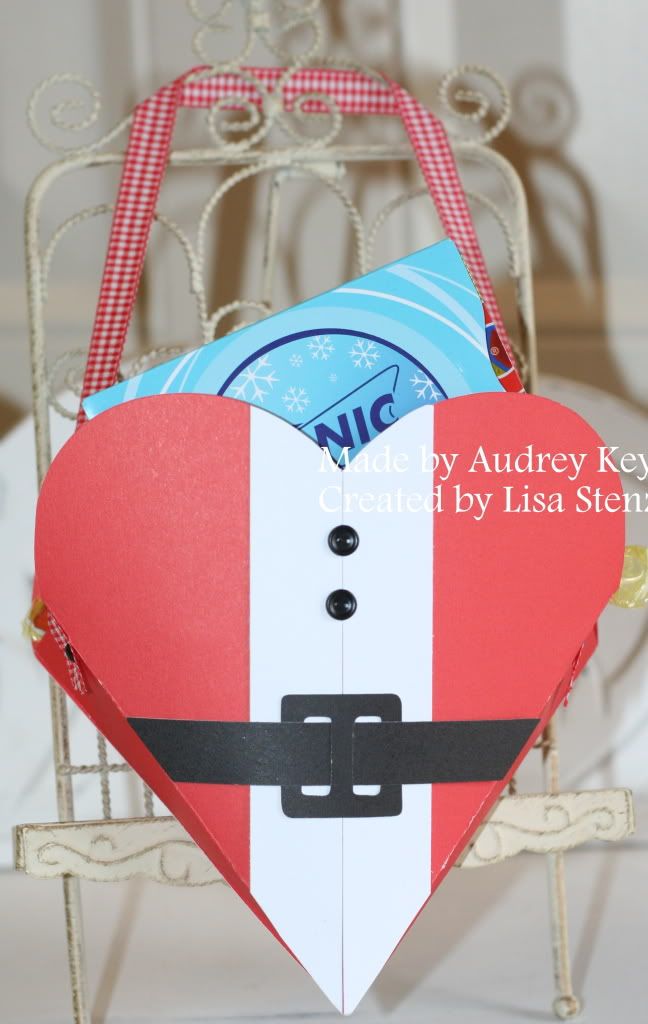 This cute little treat pocket was originally created by
Lisa Stenz
who is also a CTMH Consultant. I thought it was so cute, that I made one to show at my Cricut Class last week.
The heart pocket is on the <shape1> key
on page 27 in the cricut booklet.
1. The combination of keys is: Font Layer; Shift;
<shape1>. I cut my pocket at 11".
2. I creased all of the folds for the pocket
(don't adhere yet) and then added two strips of
White Daisy Cardstock that were 3/4" each.
3. I also cut a "belt" from Black Cardstock that was 1/2". The belt buckle is on the <square1> key
(keys: Tag; <square 1>. I cut the buckle at 1").
4. I used 2 button brads from the Black Mini
Medley Assortment for the buttons on the "coat".
5. I used a piece of Cranberry checked ribbon as the
hanger and attached it with 2 small
black brads on the sides.
6. The final step is to adhere the pocket together
at the side. I used Terrifically Tacky Tape for that.
TTT is a very permanent bond which is what you
want on all of the little treat boxes!
7. The last step is to fill the pocket. I put Christmas
candy and a Sonic gift card in my pocket!