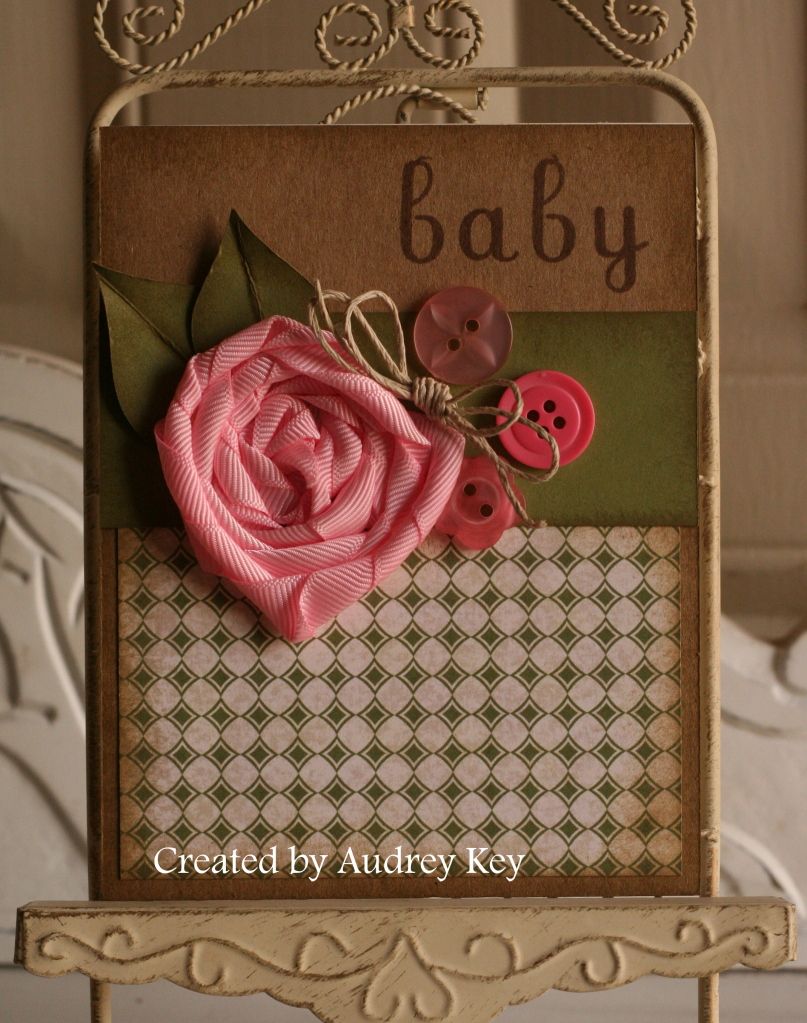 I am always in need of cards to give new moms! I saw a sack in a magazine with a si
milar layout and thought it would be fun to make a card. I used Elemental Paper and Kraft Cardstock for this card. The embellishments are simply hemp and the Pink Button Assortment.
*The main technique that we learned with this card is to make a twisted ribbon flower. Using a
1 1/2" square of Terrifically Tacky Paper - start at the center; twist the end of the ribbon up; and stick it to the TT Paper. Twist and roll the ribbon in a spiral until you fill the paper square up. Adhere the end of the ribbon to the backing after you remove the paper. It will be ready to stick to the card. (Terrifically Tacky Paper is in a small sheet and you cut off just what you need. I ordered mine online.)
*The other technique on this card is making dimensional leaves. We made a score line down the center of the leaves and then folded and distressed them with a sponge. We curled the tips upward with our fingers.
*The hemp bow is made by wrapping hemp around your four fingertips two times with one cut end at the top and one cut end at the bottom. Then you simply slip off your fingers and tie the whole thing in a knot. I makes a double bow. It is a little tricky at first but oh so cute!
More Stamp Camp Projects to come! Stay Tuned!