It has been a while since I posted! We had a death in the family last week and traveled to East Texas. I am just getting back to "normal" since the holidays over and
I have my sweet friend, Bea, to thank for this cute little snowman treat holder. She made me one for Christmas that had peppermint patties in it and the background circles were black. I am a snowman collector, so I thought it was darling, and I made lots of them for the kids at school and also for December class attendees.
You either punch the scalloped circle (2") with our circle punch (or you can cut them out with the Cricut AP cartridge - you will need 6 of the blue scalloped circles ). The white circles (2) are from a
1 1/2" punch (or cut on the Cricut).
I used the "All Decked Out" stamp set to stamp his face, buttons, hat, and the snow flourish. I stamped the face, buttons, and hat with StazOn ink and then colored them with our markers (Goldrush and Crystal Blue). Adhere the circles together and then adhere the candy in the middle. We are making these at my Playgroups this week using White Chocolate Dove squares.

This side view shows the candy inside. Any candy will do that is thin and within the size of your punched circles.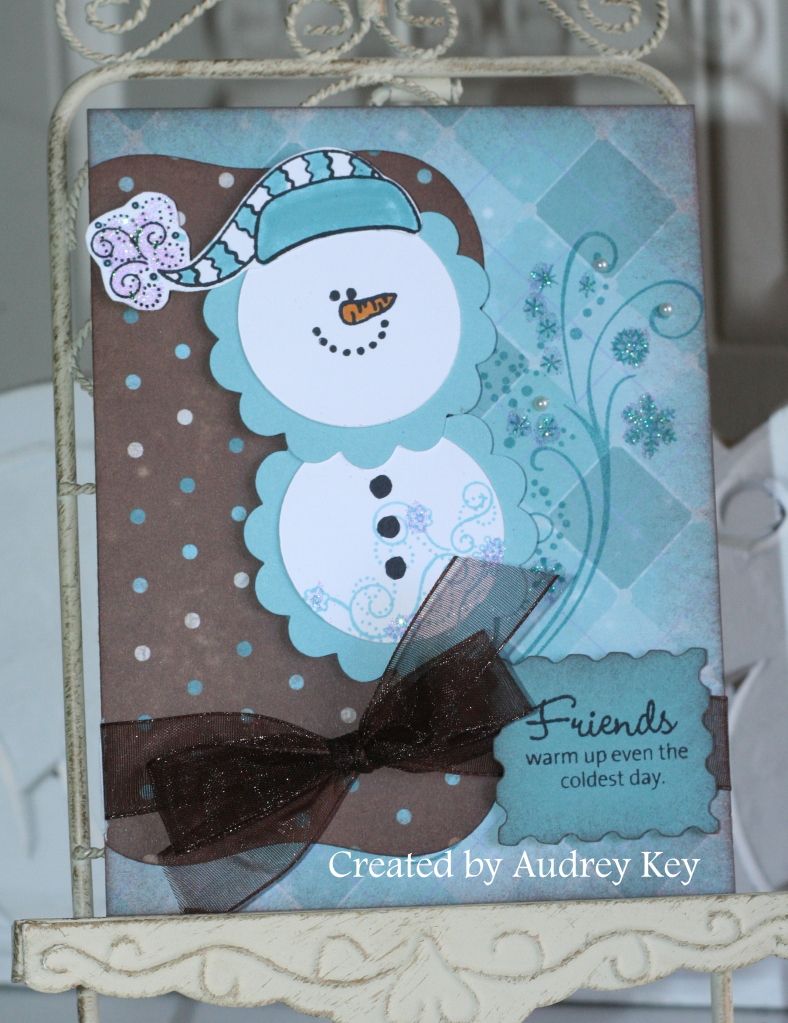 I dreamed about this card two nights ago and knew it was the one we needed to make at Playgroup this month (this month we are making 2 projects!). I cut the scalloped circles, white circles, ticket, and the frame/rectangle on the Cricut (such a time saver!). We made the same snowman to put on this card. We used "All Decked Out," "Snow Flurries," and the sentiment is from "Bundled Buddies." We embellished the card with pearl opaques, Prisma Glitter, and brown ribbon from my stash.
PS - If you love the Wonderland paper packet, purchase it! It will be retiring on February 1st so the last day you can purchase it is January 31st.